(Music is Playing)
Greetings from California!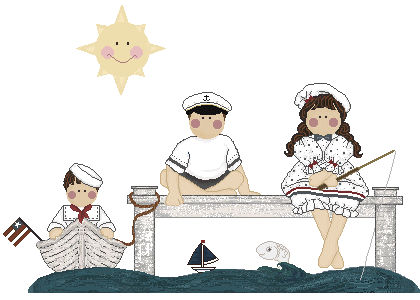 ~Three's Company~
I used to have their pics posted at my old family site,
but with some bad news out there, I didn't want to anymore.
Far away family members have asked for recent pics and being
the crazy person that I am with a camera, I do miss putting
their pictures up. I thought I'd take it up again and have fun
with it as long as they're only available to close friends & family.
Have fun browsing! =0)
(7 months old)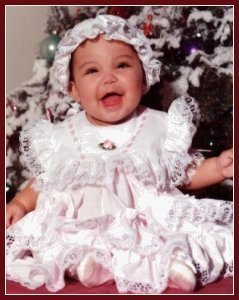 ~KRISTA~
Our first-born, Krista Raine Castillo.
Born on May 13, 1995 @ 2:15 AM on a Saturday.
She weighed 6 lbs. & 7 oz. ~ 18½in. long
She was sooo tiny and her cheeks were so red!
I love her middle name "Raine". That was because it
rained right before she was born, right before Mother's Day,
(14th of May) and that was also my Grandma's birthday.*S*
And here she is now... She loves to dress up a lot
and be a Princess. She even has her brother call her that. lol! =0)

(Halloween '99)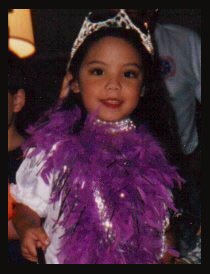 (5 yrs. old)

(3 months old)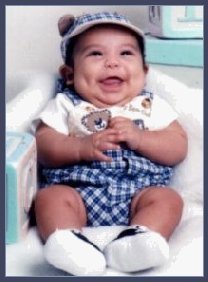 ~JAMES~
Our second one, James Nicholas Castillo.
Born on March 6, 1997 @ 10:35 AM on a Thursday.
He weighed 7 lbs. & 13 oz. ~ 21½ in. long
James was such a quiet little baby. He loved to nap a lot.
Today, he's about as tall as Krista and people always ask
if they're twins! Omg, he's so heavy too and what a very
funny boy he is. He loves to mess with Mommy and
wreck the house all day. Ack!

(Taken outside at Legoland, California)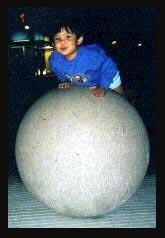 (3 yrs. old)

(3 months old)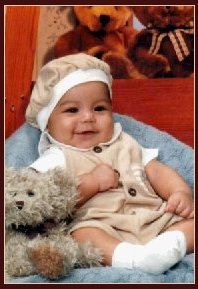 ~JASON~
Our youngest, Jason Anthony Castillo.
Born on June 9, 1998 @ 7:05 AM on a Tuesday.
He weighed 8 lbs. & 11 oz. ~ 19 in. long. (One word: EPIDURAL!)
This one hasn't left my side ever since he was born. lol!
He is everyone's little baby and he's completely spoiled.
He sure lives up to the terrible two's I tell ya. *S*
But, he is our "Mr. Charmer", he'll go up to you and give you
lots of kisses and hugs, and then take off with your ice cream. :P
Here's pics of him at the beach early this summer
Yes, he actually ate sand and didn't want to leave
so he screamed bloody murder all the way home. LOL!

(June 2000)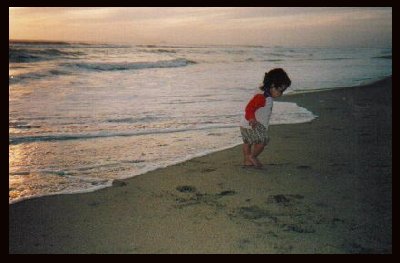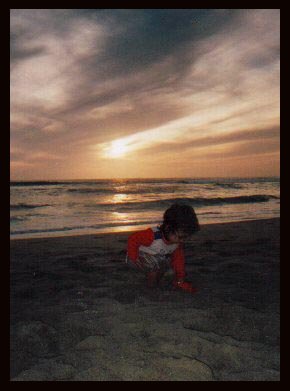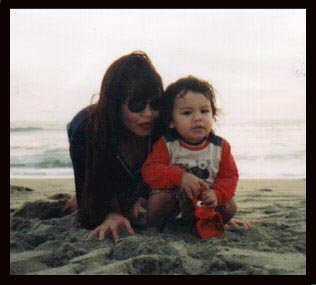 (~Jason & ME~wearing Joey's too big of a sunglasses. lol!)


Well, I guess that's it for now. I've still got a lot of pics! =)
I actually have 3 baby journals filled with all their milestones from birth,
not to mention scrapbooks too with all the places they've been to and
holidays spent together. Gosh, I even still have their hospital tags and
first haircuts! (I know, I know!) lol! I want to remember all these moments
and capture them so that someday I'll be showing them to their own babies.
I remember all too well the pain of childbirth and you bet
I'm going to use them later on for guilt trips.
They better call me home from college!*S*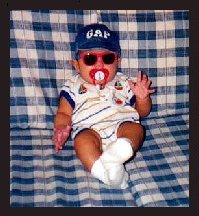 Bye for now...

(Aug. 17, 2000)
I'd taken more pics of the kids around the house.
Just coming back from vacation, I'll be adding more
in here later on too. Take a look at my rugrats... :)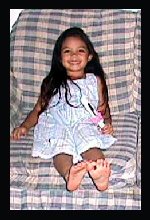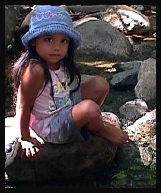 Summer 2000
Krista loves posing for the camera and when she was about 2 yrs. old,
she used to tell Joey "Daddy, the lights!" cuz he kept forgetting
to turn the video cam light on. He would roll his eyes at me and say,
"So bossy! I wonder where she got that from!" Hey now!!! :P~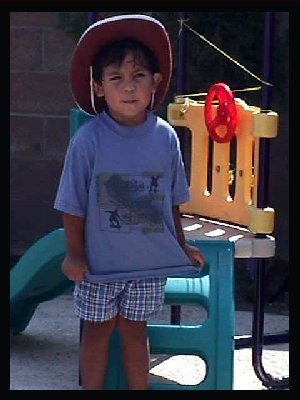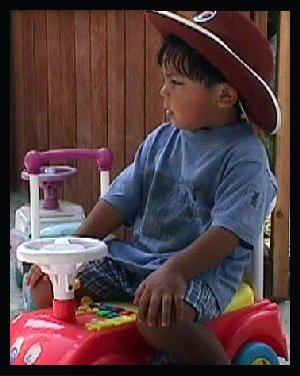 The pics big enough for ya? LOL!
My big boy, James, doesn't like posing for the cam. He almost ran off,
so I had to snag him fast! Wow, he got so tan this summer from being
outdoors a lot and he's very fearless when it comes to swimming. He
manages to give me heart attacks doing many dangerous stuff. *S*

Did I mention he cracks me up to? LOL! When he was looking
for his toy one time, he took a flashlight and used it under the couch
(not really looking, just sticking it underneath), so I told him to
look with his eyes. Well he aimed that flashlight right up to his eyeball!
Another time we were doing our usual dance & go crazy around the
living room. I carried Jason dancing w/ him and James wanted to join,
so he ran to me and wrapped his arms behind me. Then he said: "Mommy!
I'm dancing with your butt!" Ohhhh dear...lol!

Also a while back, when we went to San Diego Zoo and he had to go to
the bathroom really bad, I told him to wait cuz the bathrooms were
inside and we were outside standing in this long line and just about
to pay for our tickets. I was ready to take him to the bathroom when
I'd noticed that he already had his pants down the whole time!!! OMG!
He'd mooned everyone in broad daylight and one guy said:
"When you have to go, you have to go!" ACK!!! :P
Would you like to see the life of a 2 yr. old
going through the "Terrible Two's?!" LOL! Here you go...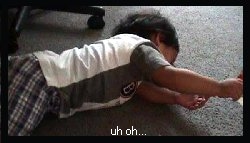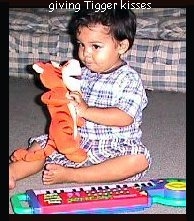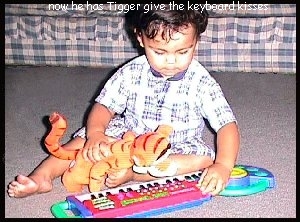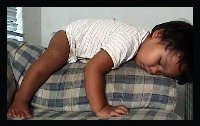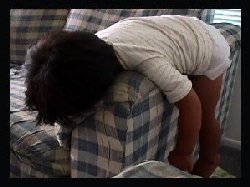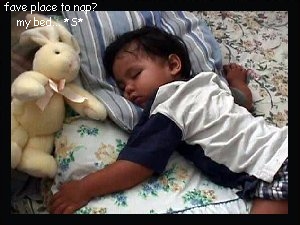 What a spaz! LOL! He throws tantrums on the floor,
plays a litte bit, harass his siblings, eat and nap,
and nap some more... Naturally, Joey's mirror image. =P
Speaking of Joey, my hubby, here's a cute picture of him.
You guys should see the one without the mask! LOL!!!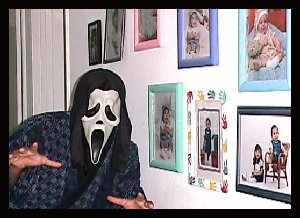 Well, I guess that's it for now... Thanks for stopping by! =0)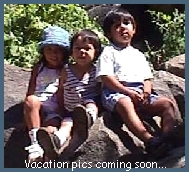 ---
"California Dreamin' music from Jerry's Jukebox

---
Where to now?